From the Connacht Tribune:
Samples of DNA found on rosary beads which were ripped from a burglar's neck as he grappled with the occupants of a house four years ago, led to his conviction at Galway Circuit Criminal Court last week.
Father-of-three, John Delaney (32), the caravan, Borris-in-Ossory roundabout, Co. Laois, had initially opted for trial, but then changed his plea to guilty to burglary at a house in The Elms, College Road, Galway, on March 2, 2014, when faced with the indisputable DNA evidence against him.
The court heard the national DNA database was not established until November 2015, but a sample of DNA was taken from the rosary beads at the crime scene in March, 2014 by Galway's Crime Scene Investigation team and sent to the Forensic Science Laboratory in Dublin. A DNA profile was generated from the sample and kept on file.
[ For Full Story ]
[Return to www.spiritdaily.com]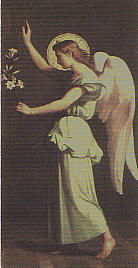 Pray always for purity and love
+++