From the Mercury News:
MOUNTAIN VIEW — Google CEO Sundar Pichai broke a new barrier in artificial intelligence technology Tuesday when he unveiled a voice assistant that sounds exactly like a human voice.
At the I/O developers conference, Pichai introduced Google Duplex, which allows the Assistant to speak with human-like cadence and includes artificial intelligence that is able to comprehend context and unclear answers. Pichai demonstrated Duplex's ability by having Assistant make reservations with a restaurant and a hair salon in two recorded phone calls. The receivers of the calls seemed to have no idea they were speaking to an AI voice. In the phone calls, Google Assistant said "ums" and "uhs" to make itself sound more human. In its phone call with the restaurant, where it was too busy to book a reservation, Google Assistant was able to naturally respond to questions and remarks made in a thick accent.
[ For Full Story ]
[Return to www.spiritdaily.com]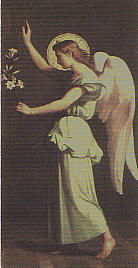 Pray always for purity and love
+++