From Associated Press:
TEHRAN, Iran (AP) — Iran's supreme leader chastised President Donald Trump on Wednesday over his decision to pull America out of the 2015 nuclear deal, while lawmakers lit a paper U.S. flag on fire inside parliament, shouting, "Death to America!"
The government backlash reflected broad public anger in Iran over Trump's decision, which threatens to destroy the landmark agreement. While Iranian officials, including the parliament speaker, say they hope Europe will work with them to preserve the deal, many are pessimistic.
From Fox News:
President Trump on Tuesday announced plans to pull out of the Iran nuclear deal, saying it has failed to halt the country's nuclear ambitions.
Speaking in the Diplomatic Room of the White House, Trump said: "I am announcing today the United States will withdraw from the Iran nuclear deal." A source said that Trump's announcement will start a 90-day countdown to the restoration of sanctions.
[ For Full Story ]
[Return to www.spiritdaily.com]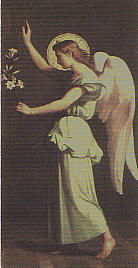 Pray always for purity and love
+++