From the Washington Post:
Ah, summer. There's nothing nicer than firing up the grill, cooking a few burgers and sitting on the porch as a distant storm flickers and rumbles against the backdrop of a dusky starlit sky. Nothing more than a gentle breeze stirs the air, as fireflies dance and occasional growls emanate from the storm cloud. You estimate it to be at least 15 miles away. It sounds like a serene scene, right? You're safe. Or so you think.
Suddenly, an arc of electricity launches out of the top of the storm, propelling upward and outward at 20,000 mph. The mega lightning bolt shoots horizontally from the storm cloud; it targets a field just 100 yards away, and suddenly a flash brighter than the sun illuminates the landscape like day and blinds you. Your hair stands on end, your teeth chatter, and your ears are deafened as the thunderous roar shakes your house and rattles the window panes. A second later, it's over — yet every electrical device in your home emits a cicada-like hiss as the electrical field propagates outward from the blast. A foot-deep hole, three yards across, marks the spot where the lightning struck.
[ For Full Story ]
[Return to www.spiritdaily.com]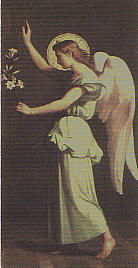 Pray always for purity and love
+++