From The New York Times:
When the White House wants to gather evangelicals for one of its many issue-specific "listening sessions," the Rev. Johnnie Moore is often one of the first to hear.
It wasn't always clear that Mr. Moore, a 34-year-old Southern Baptist minister who was a co-chairman of the Trump campaign's evangelical advisory board, would be a frequent White House guest. Some critics, and even some evangelicals, wondered whether conservative Christians' sometimes uneasy alliance with the Trump campaign was a marriage of convenience that would be abandoned after Inauguration Day. But one year in, conservative religious leaders are hailing the president's actions in office.
"This White House, the front door is open to evangelicals," said Mr. Moore, who estimates that he has visited at least 20 times since Mr. Trump took office, averaging nearly once every other week. "It hasn't been evangelicals reaching into the White House. It's been the White House reaching out to evangelicals. Not a day goes by when there aren't a dozen evangelical leaders in the White House for something."
[Return to www.spiritdaily.com]
Pray always for purity and love
+++
[ For Full Story ]
[Return to www.spiritdaily.com]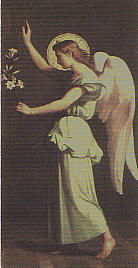 Pray always for purity and love
+++